"Jeff's keynote had a room of hard to please professionals laughing, crying, and inspired. A great presentation."
— Convention Chair, Georgia Speech Language Hearing Association
Take Your Audience On Jeff Alt's Energizing, Educational, and Inspiring "Hike to Success" presentation.

As seen on ESPN and Hallmark Channel, Jeff Alt walked the entire Appalachian Trail, over 2,000 miles, and inspired an annual charity for people with developmental disabilities, dedicated to his brother, which has raised over a half of a million dollars. His journey is chronicled in his award-winning, best-selling book, A Walk for Sunshine. Jeff combines his powerful lessons from his adventure with his business and education background  and presents an impacting set of keynotes that will help with your success in business and in life.  Join the growing list of Jeff's Clients in business & industry, churches, conventions, education, healthcare, sales/ marketing, & parks.
Business keynotes and Workshops
1) The H.I.K.E. to Success strategies — Keynote or Workshop
Jeff provides his business strategy for success
Your audience will know how to:
Be more productive & creative in business
Climb up to the next elevation of success
Utilize the H.I.K.E. lessons
2.) Lessons from the Trail — Keynote
Jeff takes you on his 2,000-mile Appalachian Trail Adventure with bears, bugs, blisters, skunk bedmates, loads of humor, inspiration and edge of your seat entertainment.
Your audience will walk away with:
Inspiration to tackle their next big goal
Motivation to utilize their strengths and passions
The knowledge that they can make a difference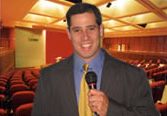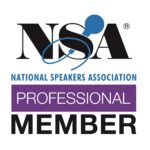 "What a wonderful way to begin our Conference! Jeff spoke to the members of the Ohio Division, International Association of Administrative Professionals, about his "Lessons Learned from the Trail" at our annual conference held….He received rave reviews for his energetic and inspiring seminar. He was a true motivator for our attendees to set a goal, take risks, and enjoy the rewards!"
— Rosemary Deitzer, CAP,Ohio Division Annual Meeting Executive Committee
"…Your presentation provided valuable insight and information and will be useful for our attendees as they move forward following the conference…thank you for being such an important part of our event!"
— Wisconsin Integrated Resource Management (WIRM) Conference Planning Committee
See The Printable Meeting Planner Kit Below
Check Jeff's Availability: Call: 513-823-2753 or
e-mail Jeff direct: jeff@jeffalt.com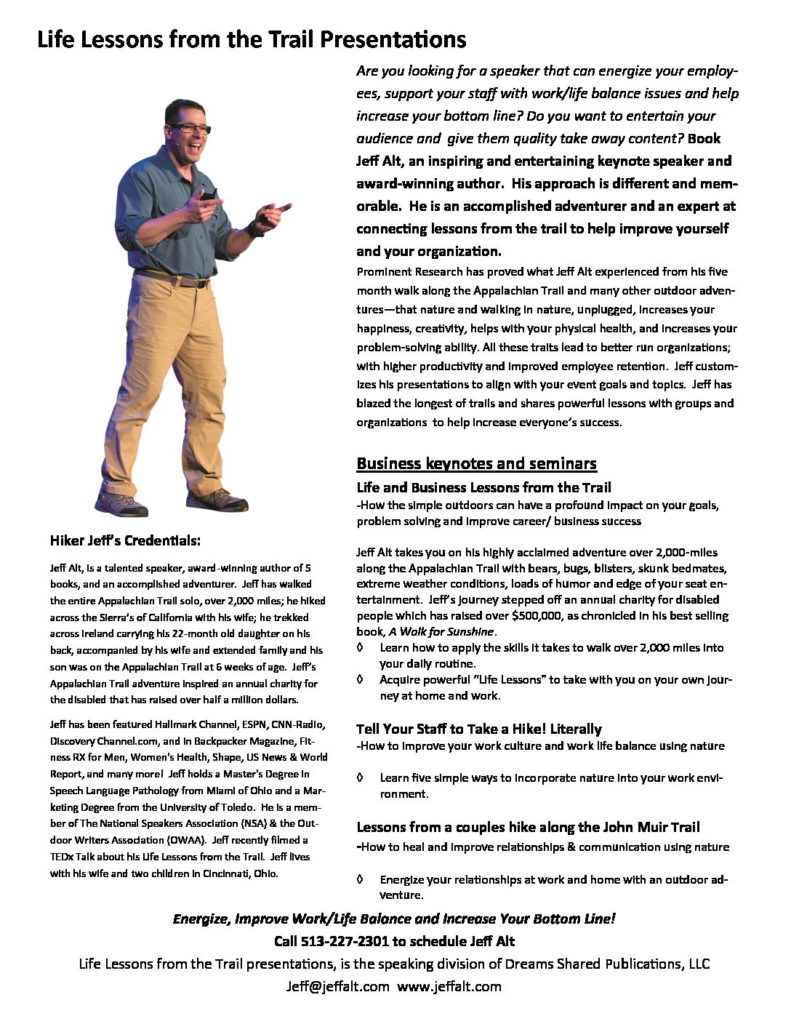 Jeff Alt's A/V and Travel Requirements